Overdose Pheromone Gel
This is a big 50 ml bottle just short of two ounces. This is an unscented product (Other than the scent of the pheromones themselves.) Overdose would be considered a heavy alpha product if you just went by the pheromone content alone, however, there are few things that make it different than usual. It is balanced with a new social sexual pheromone mix that has tested very highly on the success scale. As usual, we are experimenting with various new potential pheromone chemicals and have included our newest in this product, as well as in the SX-D9 product. It is my belief that this formula contains some ingredients that no other pheromone manufacturer yet has.
"Size may not matter but I still would rather go BIG!"
Controlled dispensing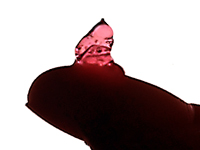 Part of what makes this formula different is that we have used a polymer matrix that is safe enough to use in your eyes. (DO NOT PUT THIS IN YOUR EYE, I'm trying to make a point.) The interesting thing about the polymer is that it really increases the life span of the pheromones by shielding them from bacteria and slowly releasing them into the air. Pheromone release can be in excess of 24 hours and has been detectable at 48 hours when no showers were taken.
However, that is not all, another interesting discovery is that alpha pheromones that would make your head spin in a regular formula are greatly metered with this polymer carrier. In particular Androstenone. What would normally be a lethal attraction dose for most guys (hence the name OVERDOSE.) actually becomes quite user friendly.
I'm certain that there are guys who will still be hiding under the bed shaking and crying from it, but for the rest of you this will offer an entirely different level of pheromone use than what you are used to, allowing those of you who are not fearful of using it, to climb to new social skill levels for attracting women.
About the Bottle
We chose an interesting vacuum bottle design that does not use a pickup wand like the average spray or pump bottle. When we tried standard bottles we found that a great deal of the pheromone gel was left inside the bottle when it was empty, the gel remained stuck to the sides and left in the bottom where the wand could not reach it. With the vacuum bottle design there is almost zero remaining gel on the sides and bottom as the bottle itself literally squeegees up the contents as you depress the pump. Another benefit of this is that there is no airspace in the bottle that could potentially react with the contents. Not that there is any real problem with this, but it is pretty high tech to keep the contents in a vacuum from start to finish of the bottle.
This design combined with gel allows for a very controlled form of dosing. With liquids you are restricted to drops, with gel you can do fractions of drops very accurately. We have tried to choose our dispenser well, so that we can give improved control over the pheromone output compared to other bottling methods.
I'm sure that many people have noticed that we don't come out with new products that often. My feeling is this, If a formula is not significantly different than what you already have, then it's not a new product.
Many of the products that we have been working on have been ongoing for over three years, some even longer. Why? Because I want great creations, excellent quality, and real results, I want it to be worth it for all of us.
| | | |
| --- | --- | --- |
| Overdose Pheromone Gel 50ml | | |